Vinyl Fences

If you are considering purchasing your fencing from a "Big Box" Store, you need to look closely before you buy. Some of their products are ok, some are not.
All of these fence photos are taken around a pool in Fort Myers Florida. Take a look at the damage and ask yourself how this fence would stand up to the tough winters we have here in New England!
CLICK PHOTO TO ENLARGE (ESC to EXIT)
[Not a valid template]
To find out more about why our products are superior to the "Big Box guys", Give us a call. We will be happy to explain the differences.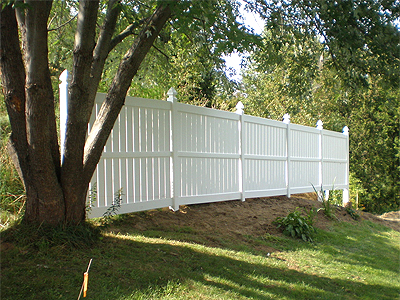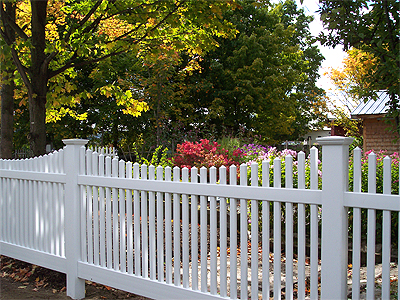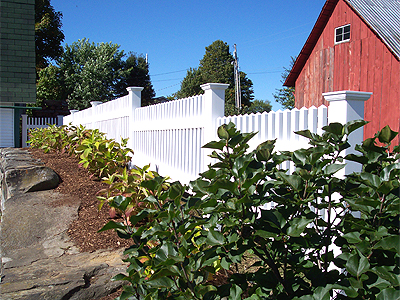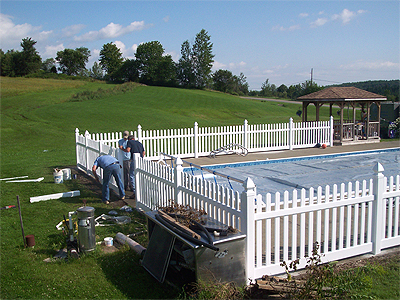 Harsh New England winters can take a toll on traditional wood fences, and keeping them up can get to be a hassle. If you are looking for something that is virtually maintenance-free and will have that "just like new" look for years to come, it's worth taking a look at Vinyl Fencing (also known as PVC). Check out our Vinyl Fence Photo Gallery.
We offer Master Halco Illusions quality vinyl products with long warranties. To take a look at the available styles and read more about the manufacturer, click on one of the 2 downloadable brochures below.
Master Halco

– Illusions Series

We now carry the Master Halco Illusions Series full product line. Ship time is 2 to 4 weeks.
Master Halco

– In Stock Styles

In a hurry? These popular products ship immediately & we can have them in a couple of days, not weeks.
Check out a big box vinyl fence installation
(and why you don't want that) here.